Newer posts are loading.

You are at the newest post.
Click here
to check if anything new just came in.
January
17
2015
What Is Plantar Fasciitis And The Way You Can Overcome It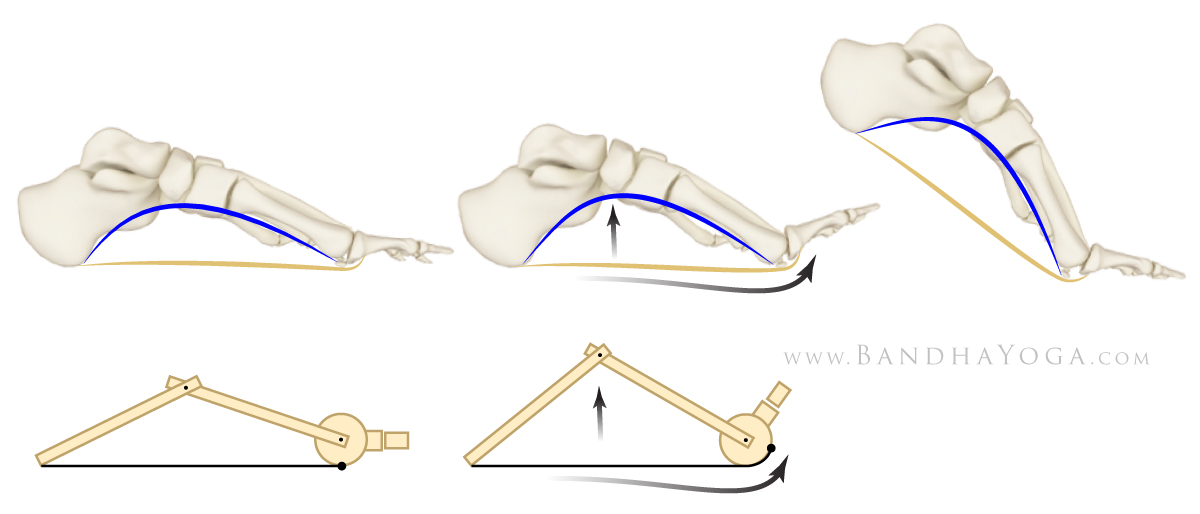 Overview
Plantar fasciitis is that pain in the bottom of your foot usually in the heel. That pain hurts especially with the first few steps in the morning as you get out of bed. This strange name comes from: "Plantar" means something that belongs to the foot, "fascia" means a band or ligament or a connective tissue, and "itis" means inflammation. You can see in the picture the plantar fascia band as it runs along the foot. This band connects your heel bone to the toes.
Causes
There are several possible causes of plantar fasciitis, including wearing high heels, gaining weight, increased walking, standing, or stair-climbing. If you wear high-heeled shoes, including western-style boots, for long periods of time, the tough, tendonlike tissue of the bottom of your foot can become shorter. This layer of tissue is called fascia. Pain occurs when you stretch fascia that has shortened. This painful stretching might happen, for example, when you walk barefoot after getting out of bed in the morning. If you gain weight, you might be more likely to have plantar fasciitis, especially if you walk a lot or stand in shoes with poor heel cushioning. Normally there is a pad of fatty tissue under your heel bone. Weight gain might break down this fat pad and cause heel pain. Runners may get plantar fasciitis when they change their workout and increase their mileage or frequency of workouts. It can also occur with a change in exercise surface or terrain, or if your shoes are worn out and don't provide enough cushion for your heels. If the arches of your foot are abnormally high or low, you are more likely to develop plantar fasciitis than if your arches are normal.
Symptoms
If you have Plantar Fasciitis, you will most likely feel a sharp pain under the ball of you heel and it will often give pain when standing after a period of rest. For example when you get out of bed in the mornings or after being sat down. Some patients describe this feeling as a stone bruise sensation, or a pebble in the shoe and at times the pain can be excruciating. Patients with Plantar Fasciitis can experience pain free periods whereby the think they are on the mend, only for the heel pain to come back aggressively when they appear to have done nothing wrong. If your plantar fasciitis came on very suddenly and the pain is relentless, then you may have Plantar Fascial Tears. We will be able to differentiate between these 2 conditions, sometimes with ultra sound imaging. The treatment for each of these conditions will need to be very different.
Diagnosis
If you see a doctor for heel pain, he or she will first ask questions about where you feel the pain. If plantar fasciitis is suspected, the doctor will ask about what activities you've been doing that might be putting you at risk. The doctor will also examine your foot by pressing on it or asking you to flex it to see if that makes the pain worse. If something else might be causing the pain, like a heel spur or a bone fracture, the doctor may order an X-ray to take a look at the bones of your feet. In rare cases, if heel pain doesn't respond to regular treatments, the doctor also might order an MRI scan of your foot. The good news about plantar fasciitis is that it usually goes away after a few months if you do a few simple things like stretching exercises and cutting back on activities that might have caused the problem. Taking over-the-counter medicines can help with pain. It's rare that people need surgery for plantar fasciitis. Doctors only do surgery as a last resort if nothing else eases the pain.
Non Surgical Treatment
Check your shoes to make sure they offer sufficient support and motion control. They should bend only at the ball of the foot, where your toes attach to the foot. This is very important. Avoid any shoe that bends in the center of the arch or behind the ball of the foot. It offers insufficient support and will stress your plantar fascia. The human foot was not designed to bend here and neither should a shoe be designed to do this. You may also strengthen the muscles in your arch by performing toe curls or "doming". Toe curls may be done by placing a towel on a kitchen floor and then curling your toes to pull the towel towards you. This exercise may also be done without the towel against the resistance of the floor. Plantar fasciitis is usually controlled with conservative treatment. Besides surgery and cortisone injections, physical therapy modalities such as electrical stimulation and ultrasound can be used. Often the foot will be taped to limit pronation. Following control of the pain and inflammation an orthotic (a custom made shoe insert) can be used to control over-pronation.
Surgical Treatment
Most practitioners agree that treatment for plantar fasciitis is a slow process. Most cases resolve within a year. If these more conservative measures don't provide relief after this time, your doctor may suggest other treatment. In such cases, or if your heel pain is truly debilitating and interfering with normal activity, your doctor may discuss surgical options with you. The most common surgery for plantar fasciitis is called a plantar fascia release and involves releasing a portion of the plantar fascia from the heel bone. A plantar fascia release can be performed through a regular incision or as endoscopic surgery, where a tiny incision allows a miniature scope to be inserted and surgery to be performed. About one in 20 patients with plantar fasciitis will need surgery. As with any surgery, there is still some chance that you will continue to have pain afterwards.
Stretching Exercises
Stretching exercises for the Achilles tendon and plantar fascia are recommend to relieve pain and aid in the healing process. Sometimes application of athletic tape is recommended. In moderate or severe cases of plantar fasciitis, your doctor may recommend you wearing a night splint, which will stretch the arch of your foot and calf while you sleep. This helps to lengthen the Achilles tendon and plantar fascia for symptom relief. Depending on the severity of your plantar fasciitis, your physician may prescribe a store-bought orthotic (arch support) or custom-fitted orthotic to help distribute your foot pressure more evenly.
January
13
2015
What Brings About Heel Discomfort And Approaches To Overcome It
Overview
The American College of Sports and Medicine (1) estimates that the average adult takes between 5,000 and 10,000 steps per day. The brunt of this activity is borne by the bones, muscles and ligaments of the foot. Healthy feet have strong, wonderfully flexible ligaments which are designed to support standing, walking and running. Plantar Fasciitis (pronounced "plantar fash-ee-eye-tis") is defined as inflammation of, or damage to, one of the most important ligaments in the foot - the plantar fascia. The plantar fascia ligament is located along the sole of your foot. It is made up of fibrous tissue that stretches outward from the heel bone, like a strong piece of elastic, and then branches out across the arch and through the ball area of the foot toward the toes.
Causes
Inappropriate footwear is the No. 1 cause of plantar fasciosis. Footwear that possesses toe spring and a tapered toe box holds your big toe in an adducted and extended position. In this position, your abductor hallucis muscle-the muscle responsible for moving your big toe away from your foot's midline-pulls on a foot structure called the flexor retinaculum and may restrict blood flow through your posterior tibial artery, the vessel that carries blood to the bottom of your foot. Tissues in the sole of your feet begin to degenerate as blood supply to this area is decreased. Other recognized causes of or contributors to this health problem include the following, calf muscle shortening, plantar fascia contracture, Obesity, rheumatoid arthritis, reactive arthritis, Psoriatic arthritis, Corticosteroid injections.
Symptoms
Plantar fasciitis typically causes a stabbing pain in the bottom of your foot near the heel. The pain is usually worst with the first few steps after awakening, although it can also be triggered by long periods of standing or getting up from a seated position.
Diagnosis
To arrive at a diagnosis, the foot and ankle surgeon will obtain your medical history and examine your foot. Throughout this process the surgeon rules out all the possible causes for your heel pain other than plantar fasciitis. In addition, diagnostic imaging studies such as x-rays or other imaging modalities may be used to distinguish the different types of heel pain. Sometimes heel spurs are found in patients with plantar fasciitis, but these are rarely a source of pain. When they are present, the condition may be diagnosed as plantar fasciitis/heel spur syndrome.
Non Surgical Treatment
Conservative treatment is almost always successful, given enough time. Traditional treatment often includes, rest, NSAIDs, and new shoes or heel inserts. Some doctors also recommend avoiding walking bare-footed. This means you'd have to wear your shoes as soon as you wake up. Certain foot and calf exercises are often prescribed to slowly build strength in the ligaments and muscles that support the arch of the foot. While traditional treatment usually relieves pain, it can last from several months to 2 years before symptoms get better. On average, non-Airrosti patients tend to get better in about 9 months.
Surgical Treatment
Surgery may be considered in very difficult cases. Surgery is usually only advised if your pain has not eased after 12 months despite other treatments. The operation involves separating your plantar fascia from where it connects to the bone; this is called a plantar fascia release. It may also involve removal of a spur on the calcaneum if one is present. Surgery is not always successful. It can cause complications in some people so it should be considered as a last resort. Complications may include infection, increased pain, injury to nearby nerves, or rupture of the plantar fascia.
Stretching Exercises
Calf stretch. Lean forward against a wall with one knee straight and the heel on the ground. Place the other leg in front, with the knee bent. To stretch the calf muscles and the heel cord, push your hips toward the wall in a controlled fashion. Hold the position for 10 seconds and relax. Repeat this exercise 20 times for each foot. A strong pull in the calf should be felt during the stretch. Plantar fascia stretch. This stretch is performed in the seated position. Cross your affected foot over the knee of your other leg. Grasp the toes of your painful foot and slowly pull them toward you in a controlled fashion. If it is difficult to reach your foot, wrap a towel around your big toe to help pull your toes toward you. Place your other hand along the plantar fascia. The fascia should feel like a tight band along the bottom of your foot when stretched. Hold the stretch for 10 seconds. Repeat it 20 times for each foot. This exercise is best done in the morning before standing or walking.
January
10
2015
What Leads To Painful Heel To Flare Up
Overview
Plantar fasciitis often occurs in middle-age. It also occurs in people who spend long hours standing on their feet at work, like athletes or soldiers. It can happen in one foot or both feet. It is common in sports like long distance running, dancing etc. Athletes who overpronate (rolling in or flattening feet) are especially at risk as the biomechanics of their feet place more stress to the band. Plantar fasciitis can take a long time to heal. Six months is the average time reported in medical research. There are some who will get cured after a few weeks and for others it will take more than a year. It can also become a chronic condition in which case some sort of treatment will always be needed to prevent the pain from coming back. As sooner as the condition is treated chances are it will not get chronic or in other words if you treat plantar fasciitis sooner you will get cured faster.
Causes
Plantar fasciitis generally occurs over time, rather than being the result of a single event. Micro trauma from repetitive stress to the tissue often combines with a biomechanical deficiency of the foot to produce the condition. In addition, arthritic and metabolic factors may contribute to the development of this injury, (though they are unlikely to affect young athletes). A variety of training errors commonly lead to plantar fasciitis, particularly a rapid increase in either volume or intensity of athletic activity. Volume refers to the distance or time an athlete performs, while intensity refers to the pace of activity and/or the recovery time allowed following performance.
Symptoms
Pain is the main symptom. This can be anywhere on the underside of your heel. However, commonly, one spot is found as the main source of pain. This is often about 4 cm forward from your heel, and may be tender to touch. The pain is often worst when you take your first steps on getting up in the morning, or after long periods of rest where no weight is placed on your foot. Gentle exercise may ease things a little as the day goes by, but a long walk or being on your feet for a long time often makes the pain worse. Resting your foot usually eases the pain. Sudden stretching of the sole of your foot may make the pain worse, for example, walking up stairs or on tiptoes. You may limp because of pain. Some people have plantar fasciitis in both feet at the same time.
Diagnosis
Plantar fasciosis is confirmed if firm thumb pressure applied to the calcaneus when the foot is dorsiflexed elicits pain. Fascial pain along the plantar medial border of the fascia may also be present. If findings are equivocal, demonstration of a heel spur on x-ray may support the diagnosis; however, absence does not rule out the diagnosis, and visible spurs are not generally the cause of symptoms. Also, infrequently, calcaneal spurs appear ill defined on x-ray, exhibiting fluffy new bone formation, suggesting spondyloarthropathy (eg, ankylosing spondylitis, reactive arthritis. If an acute fascial tear is suspected, MRI is done.
Non Surgical Treatment
Your doctor will determine what treatment is best for your condition. The most common treatments for plantar fasciitis include icing the affected area, inserting custom-made orthotics into your shoes, massaging the plantar fascia, nonsteroidal anti-inflammatory drugs (NSAIDs), steroid injections, strengthening the foot, wearing a night splint, wearing shoes with arch support, physical therapy, stretching the calf muscles, shockwave therapy or radiotherapy. To keep the plantar fascia lengthened as you sleep, your doctor may ask you to wear night splints. In the morning, taking your first steps is less painful because the plantar fascia remains stretched throughout the night. Avoiding activities such as walking or running helps the healing process. Losing weight, if it is a factor in the condition, may help to reduce the stress placed on the plantar fascia.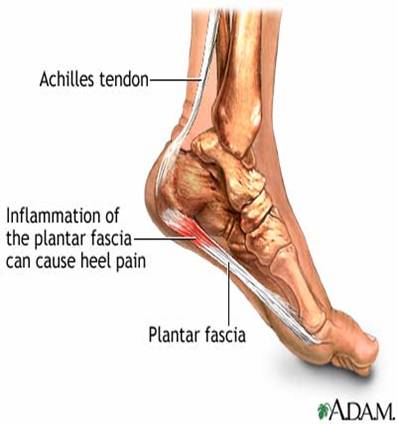 Surgical Treatment
The most common surgical procedure for plantar fasciitis is plantar fascia release. It involves surgical removal of a part from the plantar fascia ligament which will relieve the inflammation and reduce the tension. Plantar fascia release is either an open surgery or endoscopic surgery (insertion of special surgical instruments through small incisions). While both methods are performed under local anesthesia the open procedure may take more time to recover. Other surgical procedures can be used as well but they are rarely an option. Complications of plantar fasciitis surgery are rare but they are not impossible. All types of plantar fasciitis surgery pose a risk of infection, nerve damage, and anesthesia related complications including systemic toxicity, and persistence or worsening of heel pain.
Could not load more posts
Maybe Soup is currently being updated? I'll try again automatically in a few seconds...
You've reached the end.